Welcome to House of Electronics - We provide our customers with quality products and services which, in turn, provide premium power protection. We carry and service a full range of equipment: uninterruptible power supplies, power distribution units, complete power supply solutions for VoIP and WiFi, static transfer switches, harmonic filters, surge suppressors.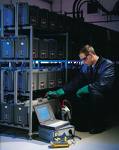 We Service What we Sell - Our 25 years in the service business allow us to identify the type of UPS system which will meet your requirements.


We are equipped to analyze your existing loads and select the size of UPS which will meet your existing and future requirements.



| | |
| --- | --- |
| | Training- our senior trainer, spent 8 ½ years teaching Electrical / Electronics courses at Niagara College in Welland, Ontario. |